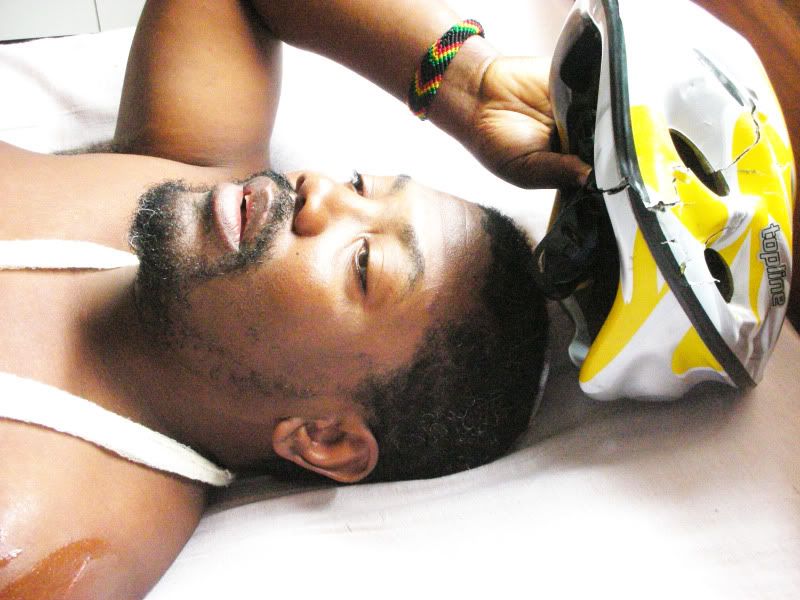 I had a terrible bicycle accident this week, falling five yards to the bottom of a dray and rocky river bed, and falling on my head. Had I not been wearing a bike helmet, I probably wouldn't have survived.

The Brazilian ambulance people SAMU came to help me, but they could get down to the riverbed without a ladder, so the fire department also came.

Fortunately, when I got to the hospital, on an immobilization hammock, they didn't ask me any insurance or financial questions (I have no insurance and no money) before x-raying every part of my body and treating my wounds.

In Brazil, people have a right to free medical treatment from Government Unitary System of Health Care (SUS) hospitals, clinics and neighborhood health posts.

It could have been a lot worse had I had this accident in the United States. The police might have arrived and demanded my identification, which I couldn't have provided because it fell in the water. Then the police could have demanded that I get up (which I didn't do until I had been in the hospital for 24 hours).

If I disobeyed the orders of the police, they might have tased me, even though I was floating in my back five yards below, next to my bicycle, with a broken bike helmet still on my head. The police in the USA might have "Tased" me two or three times, causing me to drown or break my back on the rocks in half a foot of water. If you have to have a medical necessity, have it in Brazil. At least the police won't Taser you, while you're flat on your back, because you are hurt and unable to follow their commands.


Two days ago, after a twenty kilometer bike ride, I was riding along a sidewalk at the edge of a seawall when my front tire hit a pit. I lost my balance and fell head-first, five or six meters to the dry, rocky bottom of a riverbed.
Based on where my injuries are -- in my body and in my biking helmet -- I surmise that that I hit the rocks head first; then another couple sharp rocks covered with barnacles sliced my left arm open in two places; my left shoulder was raked over the rocks; my knees hit the rocks; leaving two open wounds in my left knee, and then I fell flat on my back in the water (somehow), face-up, into about six inches of water, which was just enough in which to float. Thankfully I never lost consciousness.
After I fell, I was motionless for a for a moment, taking stock of my body parts the way a computer does when it boots up, making sure everything is there. I could still move my fingers and arms, my feet and legs, and roll my head from left to right. So I wasn't paralyzed. Not yet, anyway.
People gathered on the causeway above and I shouted to them to call SAMU, Brazil's mobile emergency care unit (
Serviço de Atendimento Móvel de Urgência.
) All I wanted was to be on a flat immobilization board, with a neck brace on, while on my way to the hospital. Failing that, I was happy to float on my back in half a foot of water, because all of my intense pains went away when I didn't try to move.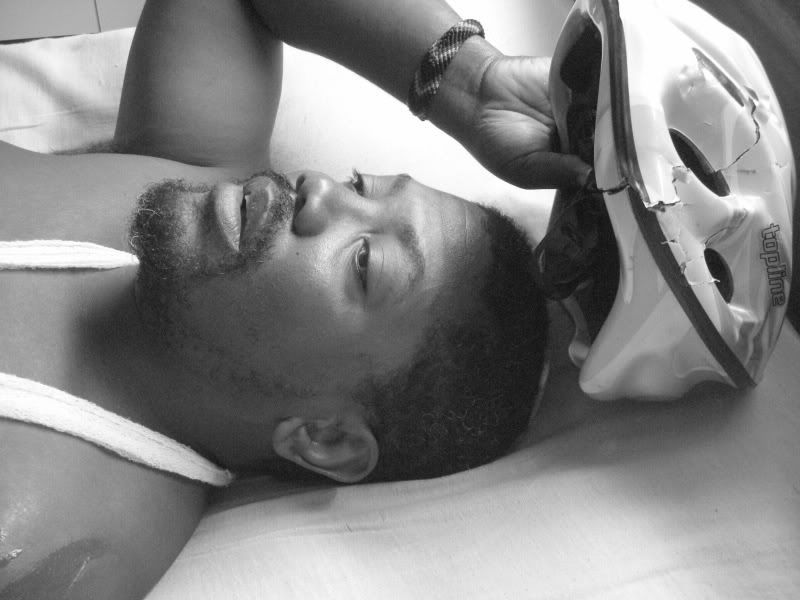 Miraculously, although I scraped and cut my left leg and arm and destroyed my helmet, I here to tell about it, just two days later, typing with my left arm in a sling.

I'm amazed to be alive, with no serious injuries. I'm amazed to be alive in spite of my recent depressive thoughts of death and suicide. But I couldn't have planned the accident I had Sunday even if had tried.