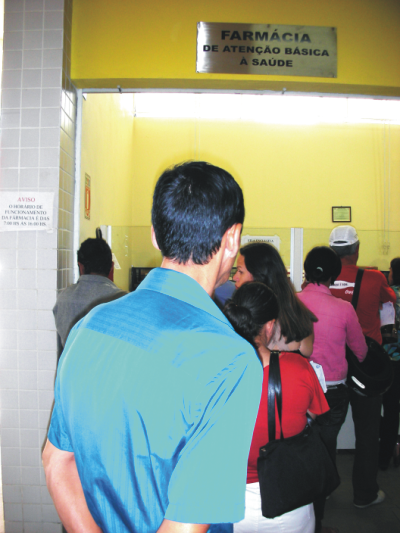 The sign above the window says
"Pharmacy for Basic Health"
Yesterday afternoon in Brazil, I went to a Brazilian Government public pharmacy (see above) to fill receive the medicine prescribed for me last week by the doctor at the
Government's free neighborhood medical clinic
.
When I saw that there were about twenty people in line, I was afraid I might have a long wait ahead of me. Instead, the three workers dispensing medicine were business-like, courteous, and I was in and out in fifteen minutes. (The white paper sign to the left in the above photograph says, "Open Monday through Friday, 7:00 AM until 4:00 PM.")
Unlike in the United States, Brazilian Government employees providing free services are not universally condescending and rude to their clients, if only because most of the recipients here are working-class Brazilians whose aggregated tax dollars are paying for the services they receive.

Because the Government buys or manufactures these medicines in bulk, it can afford to give medicines away, even though Brazil is considered to be part of the "developing world". It makes one wonder what is wrong with the government of the United States, where Congress plans to spend trillions of dollars on the medical system and still will not provide free medications to those who need them, without needs-testing, obligatory premiums and co-pays.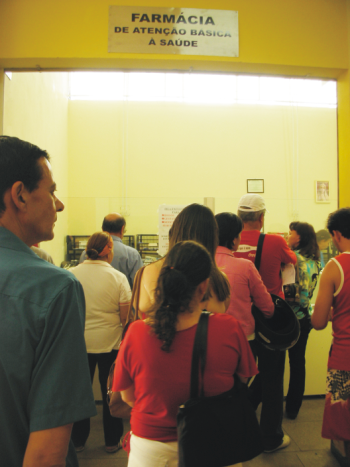 Who wouldn't wait in line
to fill their precriptions for free?
It really is a shame that America is willing to look beyond it's borders for petroleum and consumer goods, but is unwilling to look to other countries that have functional health care systems. One need only look at the mortgage and housing markets to see that market-based solutions will never provide consistent, affordable health care.

If fancy adjustable-rate mortgages leave consumers wondering how they will stay in their homes, then how will market-based medical care provide consumers any more certainty about their health care needs, now and in the future, than they now have about their mortgage payments?

When Congress and insurance companies propose exotic new ways for us to receive health care in the United States, we should ask them to do what I have done above: show me a couple of photographs from somewhere in the world where that system actually works.